INTELLIGENT SAFE SERVICE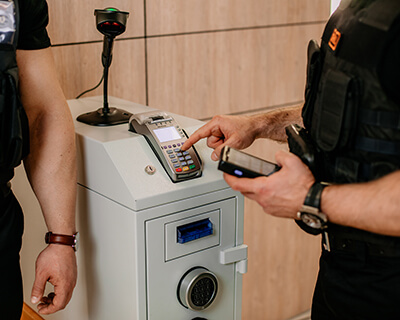 Does your company deal with a lot of cash every day? Make sure you enjoy a comfortable "A to Z" handling with a minimum of effort. Make it happen with our innovative cash deposit machine: safe, easy to use and multi-functional. With us, your cash will be under complete control!
The Intelligent Safe Service offer includes device configuration to the client's needs (hardware, software), delivery and installation to indicated sites, ensuring appropriate SLAs required for FLM and SLM.
The entire range of activities related to the circulation of cash, from cash acceptance by cashier to crediting on the client's account, is supported and automated with unique Intelligent Safe Service system.
We provide help and safety for:
Financial institutions
ATM operators
Retail chains
Gas stations
WHAT MAKES US TRUSTWORTHY?

We service 8,000 cash machines

We service an ATM or other cash machine every 1.5 minutes

We supervise 100,000 cassettes for our clients' cash machines.